Artistic Director - Choreographer - Dancer - Instructor
Alexandra 'Spicey' Landé is a Montreal choreographer, dancer, and instructor with more than 20 years experience, 10 of which were devoted to choreography. A major player on the Québec Hip-Hop dance scene, her passion for the art form was born in the 80's when she was but a girl. The renowned Bust A Move Festival (2005-2015) was founded and created by Alexandra—a great event in urban/street dance in Canada. At the close of 2015, she founded Ebnfloh Dance Company whose mission continues to be to create, produce, and showcase inspired, authentic, and ground-breaking works, and to promote original choreographic language that is essentially rooted in Hip-Hop. The symbiotic relationship between both the language of her work, and her very creations constitute the essence of her artistic signature.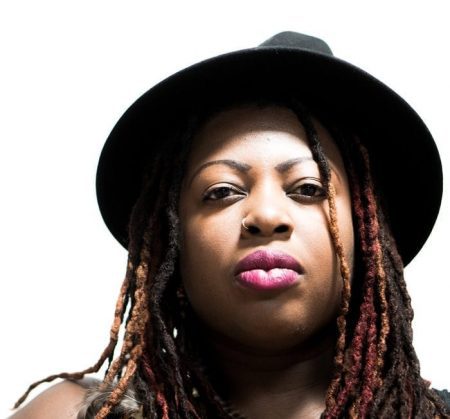 In 2008, Alexandra kicked off her independent choreographic career; presenting Retrospek at the MAI (Montréal, Arts Interculturels) featuring 60 minutes of pioneering work brought to life by 9 dancers. The show was warmly received by audiences, and further inspired other choreographers in street dance. Following Retrospek's showing in the 'Vue sur la Releve' Festival, Spicey was awarded with the Rideau-Entrées en Scene Loto Québec Bursary in 2009. The show was presented in twenty different venues in Québec, between 2008-2010.
In 2010, Alexandra put together her 2nd full length piece, Renézance, presented by Tangente with repeat performances in Montreal. In 2011, she was hired as an urban dance instructor for the Michael Jackson: The Immortal World Tour show by Cirque du Soleil. As instructor and choreographer, she also took part in 'ils dansent' on CBC along with Nico Archambault. She taught at l'École National de Cirque de Montréal, as well as master's classes throughout the country, and abroad. During that time, the Bust a Move Festival (2005-2010) which she founded in Montreal would go on to become the biggest street dance competition in all of Canada; the TOHU would merge forces with the festival becoming its co-presenter. Spread out over 4 days, Bust a Move's annual draw exceeded 2500 visitors, where 300 dancers ages 16-40 years old would participate before a panel comprised of American, European, and other judges from around the World. The event indelibly inspired the coming generation of street dancers. In 2015, 'Spicey' was invited to join the judges panel for the international dance competition, Eurovision Young Dancer, shown on Czech TV, in the Czech Republic.
Eager to broaden her artistic horizons, by developing new choreographic work with promising young talent in the current, local urban dance scene, Alexandra founded Ebnfloh Dance Company in 2015, prizing excellence and originality above all. Working out of a choreographic language that traces its roots and origins right back to the beginnings of Hip-Hop, she is inspired by the pioneering authenticity of this movement and its imprints in the fields of theatre, film, the visual arts, and in music. By bridging these multi-disciplinary media, Spicey looks to build upon them by raising relevant social themes in her art.
Surrounded by peers and counterparts who feed her creative process, by the end of 2015 the MAI presents Ebnfloh's creative début, 'Complexe R'. Spicey's 3rd full length choreography was largely inspired by the malaise in our existential obsessions. The work was widely hailed during its showings through Montreal, Toronto, New York, Amsterdam, 'In-Ward', Ebnfloh's latest work will be premiering at the MAI's Gallery from the 16th-20th of January, 2019. The new piece gained support from several major partners (CCOV, Danse Danse, Agora de la Danse, etc.). The show mainly focuses on an isolated group of 6 individuals, as outsiders exploring the complexities of modern-day relationships with an emphasis on feelings of solitude and detachment. Alexandra looks forward to pursuing and deepening the choreographic elements of her creative flow with aplomb, while continuing to further define her present and future projects.
Alexandra 'Spicey' Landé is a pillar in the street dance community. Especially, in the keen eye she keeps on the way these values are handed down to today's and tomorrow's best talent. Spicey is a regular invite as teacher, and gives talks all over Canada, as well as on the international stage. In 2018, she took part in the 11th edition of Transformation Danse à Montréal where she set up a creative workshop spanning 2 weeks. Since 2017, she is also responsible for the street dance portion of 'Big Bang' a contemporary professional dance program founded and headed by Stéphanie Decourteille.
As a choreographer, Spicey mentors many new, young artists ever ready to counsel, lend support, and generally exchange. She was spokesperson for the 'Intercollegiale de la Danse' (2016-2017). Also, sharing her knowledge and experience thru conferences; panel discussions; juries devoted to street dance (i.e., judging battles, cyphers), as well as professional workshops right across Canada, she has had a hand in urban dance in just about all its facets. In 2018, Alexandra was invited by Concordia University to join a group of 12 international panelists for the 'Focus on Dance Research' conference, which featured 100 participants, where she also gave a masters class with American artist, Sabela Grimes. In 2018, she was dance ambassador for the Festival Mode et Design de Montréal. Now and into 2019, Spicey's Ebnfloh Dance Co. is proudly building a unique choreographic language suited to her own vision. 
Her signature artistry; her direct creative involvement in the dance community, not to mention her total artistic contribution make her a central and dynamic part of the Canadian urban dance scene.